Wearing hoodies in summer is a subject that has always been up for debate.
Some say since these garments are designed to keep people warm, why wear them in summer? Well, one reason why people wear hoodies in summer is that they are stylish. But not everyone agrees that they are a style for summer.
So before you wear your hoodie again this summer, ensure you read through this guide first.
History of hoodie
It all started in the 1930s when hooded sweatshirts were first worn by laborers in the US. These early hoodies were plain and functional, with the intent to keep workers warm while they worked in cold factory conditions.
The hoods protected workers from dust and other airborne particles that are found in these industrial settings. This made them a popular choice that was soon adopted by everyday fashion.
In case you don't know, Champion brand was the first to produce hoodies for athletes. It was the popularity of hip-hop artists that propelled hoodies to new heights in the late 70s and 80s.
Rappers like Run-DMC brought hoodies into popular culture by wearing them on stage and in music videos. This trend continued through today, with a lot of urban youth sporting these comfortable garments as a fashion statement.
As hoodies have become more mainstream, different styles and types of these garments have developed over time. Today, hoodies are available in many colors and styles, from classic pullovers to zip-up designs.
They come in both plain and patterned varieties, often with fashion-forward details like drawstrings, pockets, and hoods.
Can you wear hoodies in summer?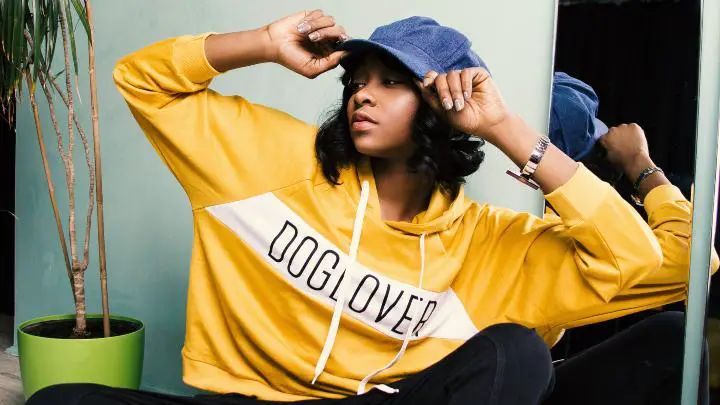 Yes, you can. 
Summer falls right between spring and autumn, and it's the warmest time of the year. But depending on the region, there can be days when it's cool enough to wear a hoodie.
Wearing hoodies during summer can help you stay warm without having to worry about overheating, this is possible due to their light fabric and comfortable fit.
SEE: What to Wear in 60-Degree Weather
Is it better to wear hoodies in the summer?
The answer depends on personal preference. 
Hoodies can provide warmth and comfort in cooler temperatures, but they can also be quite heavy and uncomfortable when the weather is too hot.
If you choose to wear a hoodie during the summer, look for lightweight fabrics such as cotton or linen that will help keep you cool.
Why do people wear hoodies in the summer?
Comfort
Hoodies are highly comfortable and provide greater coverage than traditional shirts, making them an excellent choice for those who feel a bit extra sensitive to the sun or other elements.
Versatility
The hoodie is a very versatile piece of clothing. It can be dressed up or down depending on the occasion, and it works great as an extra layer when temperatures vary throughout the day.
SEE: Here's What You Should Know About Hoodie Weather
Protection
A hoodie helps protect your face and neck from harmful UV rays. If you plan to be outdoors for long hours, a hoodie adds an extra layer of coverage that can help prevent sunburns.
Style
Hoodies are stylish and on-trend. They come in a variety of colors and styles, making it easy to find one that fits your style. Whether you prefer a bold look or something more subtle, there's sure to be a hoodie that fits the bill.
Practicality
Unlike other pieces of clothing, you can wear a hoodie in different climates and seasons.
Just like you can layer it in cold weather, you can wear it alone in warmer weather. As a reminder, a lightweight hoodie is a great way to stay comfortable without getting too hot.
Body image concerns
Wearing a hoodie can help those who feel self-conscious about their body hide certain features they don't want to show off. You can also wear a hoodie for modesty or as a way to express your style and personality.
How to wear a hoodie in summer
Hoodies are versatile pieces of clothing that you can wear in any season. They offer warmth when needed, and can be easily layered with other garments for added protection from the elements.
Wearing a hoodie in summer is also a great way to look stylish while staying comfortable in warmer temperatures. 
Here are a few tips on how you can make the most out of your hoodie in summer:
Choose the right fabric. Look for lightweight materials like cotton and polyester that will allow your skin to breathe and keep you cool.
Layer it up. Wearing a tank top or t-shirt underneath your hoodie can help regulate your body temperature while still giving you the warmth of the hoodie.
Accessorize. A colorful scarf, statement jewelry, or a stylish hat can add just the right amount of style and flair to your summer hoodie ensemble.
So go ahead and rock that hoodie this season.
SEE: Keep Your Hands Moist With the Best Hand Cream
FAQs
What does wearing a hoodie say about you?
Wearing hoodies either in summer or otherwise can convey a variety of messages.
Some may interpret it as a sign of being laid back and casual, while others might see it as a statement of rebellion or self-expression.
In some cases, people wear a hoodie to indicate that they belong to certain social groups or cultures. 
What temperature is too hot for a hoodie?
It depends on the preference of the wearer.
However, 75 degrees Fahrenheit can be too hot for a hoodie.
Is it fashionable to wear a hoodie in summer?
Yes, it is. 
Although traditionally hoodies are associated with winter, they have become a fashionable garment to wear all year round.
Conclusion
Wearing hoodies in summer can be a great way to stay comfortable and fashionable. While there are certainly some drawbacks, such as overheating, you can still wear them safely by following the tips in this article.
Hoodies come in many different styles and fabrics, so there is certainly something that works for everyone's individual needs.
With the right combination of comfort and style, hoodies can be a great addition to any summer wardrobe.
Thanks for reading.
Need more articles on fashion-forward clothing? Read more here on Africana Fashion.