Doc Martens is well-known for being good winter shoes, but did you know they also look good with shorts in the summer?
The brand Doc Martens is dedicated to producing high-quality combat boots in different versatile styles that can all be worn with long pants, chinos, and even shorts.
I'll go into more detail about how to wear Doc Martens with shorts in this article, along with other important details you should know about the boots.
About Doc Martens
Doc Martens, also known as Dr. Martens, is an English shoe brand that produces winter boots and shoes.
Beginning in 1901, the Griggs family of the English Midlands' little village of Wollaston, Northamptonshire, became well-known for producing boots.
Due to their central location in the English shoe industry, Griggs' boots gained a well-deserved reputation as reliable, sturdy work boots over 60 years.
Things changed when the third generation of the family, led by Bill Griggs, along with brothers Ray, Colin, and son Max, made new changes to the original designs.
While Bill was flipping through a shoe industry journal, he noticed a German company's advertisement for their ground-breaking air-cushioned sole.
This gave inspiration for significant improvements made with the help of an exclusive license, including a modified heel, a bulbous yet straightforward top, a distinctive yellow elastic stitch, a two-tone-shaped sole edge, and a distinctive sole pattern.
The boots were labeled "Airwair" and came with a black and yellow heel loop that reads "With Bouncing Soles" (based on Bill Grigg's handwriting) and included the brand name.
The company became well-known in the 1970s as people began to wear its shoes to reflect their unique personalities. The investing company Permira presently owns the business.
Can you wear Doc Martens with shorts?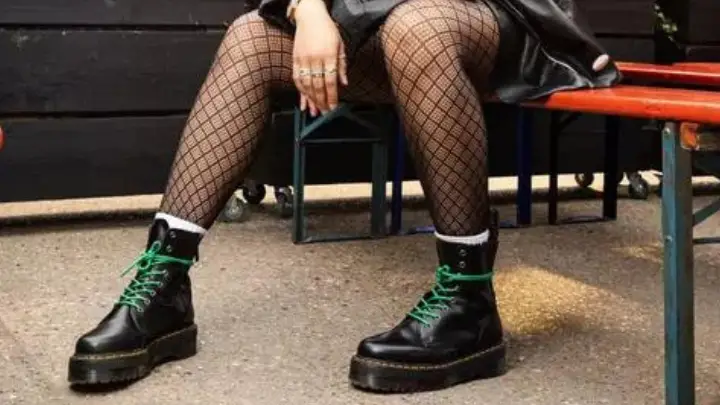 Yes, you can.
It is acceptable to wear Doc Martens with shorts. Moreover, wearing shorts with the shoes will make you look good and stylish. Likewise, you can essentially wear them with anything as long as it matches.
SEE: Can You Wear Doc Martens In The Snow?
When can you wear Doc Martens with shorts?
You can wear them with shorts during the summer.
The shoes instantly give an edgier look than typical summer slacks or boat shoes when worn with shorts.
Why should you wear Doc Martens with shorts?
It is common knowledge that during the summer, when the sun's heat is at its highest, people tend to dress in looser clothing that allows air to circulate. This is one of the main causes of shorts' predominant summertime use.
Therefore, you should wear Doc Martens because they will give you a cool look while protecting your foot sole.
How to style Doc Martens with shorts
To style Doc Martens with shorts, pair the shorts with regular shoes, boots, or sandals. Here are the methods of styling them.
1. Regular shoes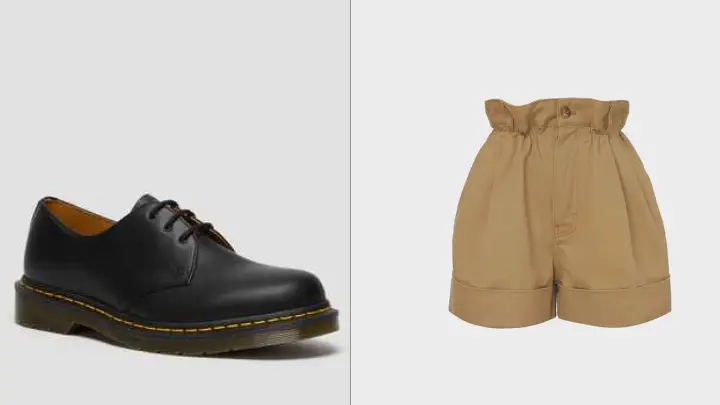 Shorts go very well with Doc Martens shoes. To achieve this, put on a stylish pair of Docs and wear shorts, then finish by donning a t-shirt.
Ensure you're not wearing any socks because it could ruin your outfit. Compared to other loafers or shoes you might wear with shorts, this looks better. To give your appearance a little more edge, add a hat.
2. Boots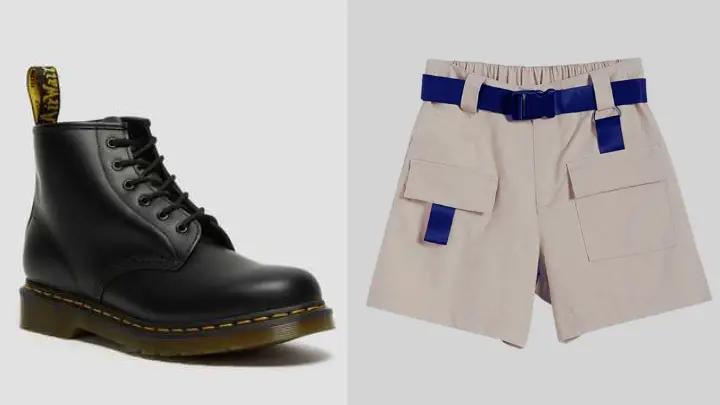 Compared to shoes, Dr. Martens boots are challenging to pair with shorts.
However, if you choose shorter boots like the 1470 model over the taller 1490 models, you can create a seamless stylish look.
Shorts and boots together have a streetwear vibe. Girls can do this with ease, while guys might find it challenging to achieve the desired look.
3. Sandals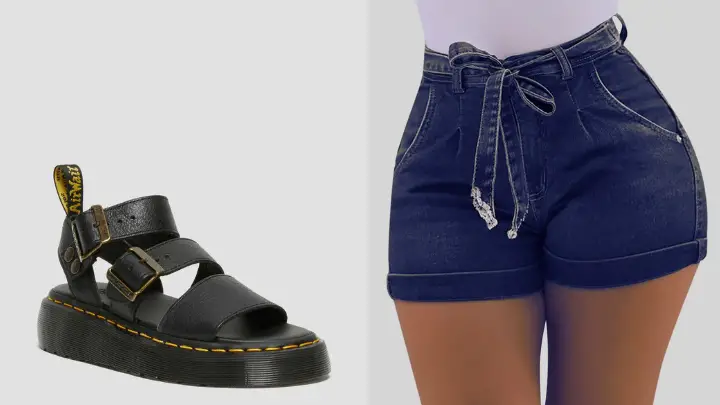 A Martens sandals paired with booty jean shorts create perfect summer vibes. This is a very refreshing look, especially if you are heading to the beach with friends or going to the park for a while.
Can you wear white Doc Martens with shorts?
Yes, white Doc Martens can be worn with shorts.
The white color makes your ensemble look brighter and more distinct, especially during bright sunny summer days.
SEE: Why Do Running Shorts Have Liners?
Can you wear cycling pants with Doc Martens?
Yes, you can if you wish.
Cycling shorts are becoming more fashionable when paired with Dr. Martens. As a result, if you want, you can pair them with nice Dr. Martens boots.
Can you wear biker shorts with Doc Martens?
Yes, you can if you want to.
Although bike shorts can be intimidating, you can still wear Dr. Martens with them.
Should you wear Doc Martens boots or shoes with shorts?
You can choose to wear either.
Although some people find it uncomfortable wearing boots in the summer because it increases the humidity around the feet, causing you to sweat.
Also, you could start getting a displeasing odor due to the accumulated heat. Therefore, I will suggest that you wear regular shoes more often than boots with shorts.
FAQs
What shorts can you wear with Doc Martens?
Doc Martens goes well with chinos, jeans, and any kind of material shorts you choose. However, ensure to remove the socks or keep them hidden, and the rest of the outfit should be simple.
Can you tuck jeans into Doc Martens?
Yes, you can.
Tucking slim-fit jeans would lengthen the legs and draw attention to the shoes, emphasizing their bulk, which would make you stand out.
What pants do you wear with Dr. Martens?
When styling Doc Martens with pants, you can choose between cropped pants, slim jeans, or any regular jeans that you roll up or pin roll.
Can you wear Doc Martens to a club?
Yes, you can. Contrary to what many people think, Marten's boots are appropriate for clubs and house parties.
SEE: Get A Chance To Win A Pair Of Shoes Worth $85
Conclusion
Doc Martens manufactures some of the most fashionable and long-lasting shoes, boots, and sandals on the market.
They are so comfortable to wear, and they go with all types of shorts designs. Furthermore, the shoes have a good soft cushion that makes them soothing for the wearer's feet.
Nonetheless, because this is a summer ensemble, it is always preferable to wear Doc Martens' regular shoes rather than boots with shorts because the summer heat would have boots all wet and uncomfortable.
Thanks for reading.
If you have enjoyed reading this article, check out Africana Fashion for more.