​​Some people assume Tommy Hilfiger is an expensive American fashion brand that sells quality clothing and accessories. But how true is this?
If you'll like to know whether it is expensive or not, you're at the right place.
This review sheds light on the brand, why the prices are that way, and how to know if it's worth the splurge.
About Tommy Hilfiger
Early years
Tommy Hilfiger is an iconic American fashion designer known for his classic style. You'll often see his designs on the red carpet and on some of the world's most famous celebrities.
Born in 1951, Tommy Hilfiger was the second of nine children. As a child, he took interest in fashion and design and will often sketch clothes on his own.
While in school, he spent the summer working in a clothing store. He eventually opened his boutique in Elmira called People's Place. It became known for its eclectic mix of vintage and modern clothing.
As a young business owner, he'll often drive to New York City with his friend to buy items for his store. But he soon found it less stressful sketching his designs.
People's Place was a success but went bankrupt in 1977.
Starting the brand
Tommy relocated to New York City. And worked with other labels before deciding to start another store, this time, with the name "Tommy Hill."
In the late 1980s, he launched his first signature collection for men, which featured classic American style with a twist. And by this time, the brand's name was officially called "Tommy Hilfiger."
The collection was a hit, and he soon became one of the most popular designers in the United States.
In the early 1990s, he looked into other areas of the fashion industry – the women's line, children's line, and then home collections.
The company went public in 1992, and he opened a series of retail stores called Tommy Hilfiger outlets. In 1997, Tommy sold his company to the apparel giant Apax Partners for $1.6 billion.
He remains the principal designer and manages the entire design and creative process. He is also one of the most prominent names in the fashion world.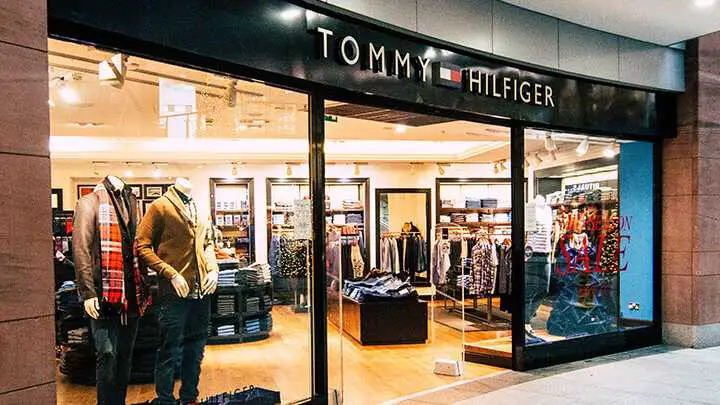 Is Tommy Hilfiger expensive?
Yes, it is.
The price of some of their everyday clothing is around $100, and other products cost far more. Bags cost around $50 to $150 and above.
However, some items come at a discount from time to time.
SEE: Is Guess A Good Brand Worth Its Price And Popularity?
Why is Tommy Hilfiger expensive?
1. The Brand name
Tommy Hilfiger is an expensive brand because people believe it is a luxurious, designer label.
The brand name is famous among those who can afford to pay for the items, and there's a social status that comes with it.
The company still produces clothing, fragrances, and other fashion accessories for both men and women.
2. The Quality
Tommy Hilfiger commands a high price tag because of the quality of its garments. The company uses premium wool and craftsmanship to create its clothing.
3. The desirability
Not only is Tommy Hilfiger a well-made brand, but it is also highly desirable. The company's clothing has a timeless, classic style always in fashion.
In addition, the brand is associated with a lifestyle of luxury and success. This makes the clothing even more desirable to many people.
4. High cost of labor
Tommy Hilfiger has high labor costs because the company's clothing is manufactured in US factories. The higher-end materials they use are also expensive to produce.
5. Advertising and branding
A large portion of Tommy Hilfiger's expenses is on advertising and branding. The company spends a significant amount of money on marketing its products.
This includes traditional forms of advertising, such as television commercials and print ads, as well as more modern methods, such as social media marketing.
They also have a close association with celebrities. And that works to their advantage.
SEE: Why Is Supreme Brand So Expensive?
Does Tommy Hilfiger count as a designer?
Yes, he is.
Some people might not consider Tommy Hilfiger to be a true designer because he doesn't create all his designs but relies on his team to come up with new collections.
However, Tommy is still a successful fashion designer. Thanks to his unique vision and ability to translate trends into wearable, accessible fashion.
Is Tommy Hilfiger a luxury brand?
Not entirely.
As one of the world's leading designer lifestyle brands, Tommy Hilfiger has built a reputation for delivering quality products with a classic yet modern style.
While the brand certainly offers high-end products, it is not technically a luxury brand. That is because the company focuses less on exclusivity.
So, while Tommy Hilfiger may not be a luxury brand in the traditional sense, it is still a high-end fashion label that offers stylish, well-made clothing and accessories.
Why is Tommy Hilfiger so popular?
Versatility
One reason Tommy Hilfiger is so popular is that the company offers a wide range of products.
Hilfiger's clothing line includes everything from casual wear to formal wear. And the company also sells accessories, fragrances, and home goods.
Best of all, they have a line called "Tommy Hilfiger Adaptive." It's designed for people with disabilities. And its main focus is to produce clothes that they can easily wear.
Celebrity endorsement
Another reason for Hilfiger's popularity is its use of celebrity endorsements.
Some of the celebrities who have appeared in Tommy Hilfiger's advertising campaigns include Gigi Hadid, Zendaya, and Hailey Baldwin.
Creative marketing
Finally, the company's marketing strategy has contributed to its success.
Tommy Hilfiger often sponsors high-profile events and partners with other luxury brands, which helps keep the brand top-of-mind for consumers.
SEE: Find From Simple to Grand Evergreen Gift Ideas for Women
FAQs
Is Tommy Hilfiger still in style?
Yes, it is.
Tommy Hilfiger's classic styles are always in fashion. Still, the designer is always coming out with new, trendy pieces that are popular with fashionistas around the world.
Whether you're looking for timeless classics or the latest trends, the brand has something for everyone.
Why is Tommy Hilfiger cheaper in some countries?
The reason is that the brand has two labels.
Its high-end labels and its outlet stores. Most of the clothes sold in these outlet stores are of lower quality, and are cheaper.
In Asia and Europe, where outlet stores aren't many, clothes sell at a higher price and much better quality. The US has more outlet stores for cheaper outfits.
Are Tommy Hilfiger clothes made in China?
Yes, they are.
The clothes, especially those in outlet stores, are made in China and Vietnam with the best available material.
Conclusion
Tommy Hilfiger is an American fashion designer who creates luxury clothing and accessories. His collections are often very pricey, with some items costing hundreds or even thousands of dollars.
However, some Tommy Hilfiger products are less expensive, and the brand also offers a few lower-priced lines.
Overall, Tommy Hilfiger is a high-end designer whose products come at a high price. And now you know why.
Thanks for reading.
Need more brand guides? Find them here on Africana Fashion.