If you are looking for a guide on how to apply foundation with a brush, you are in the right place. As much as foundation is an essential makeup tool in getting the flawless beauty we desire, we have to know how to swing the strokes and bristles.
Also, before you pick the tool you want to use to apply your makeup, you have to decide what concept you wish to convey. For instance, full makeup requires thick and sturdy brushes that can blend products on your face, which is why you would need a foundation brush.
Additionally, not only does a brush save you time (you can squeeze an hour's routine into five minutes), but it also makes your makeup routine smoother and cleaner.
However, as good as this tool is, I know some of us still do not know what to do with it. This is why I am giving a guide on how to apply foundation with a brush. You not only learn how to use the brush but also why you need to use a foundation brush.
Take a quick look below.
Apply Foundation With a Brush Guide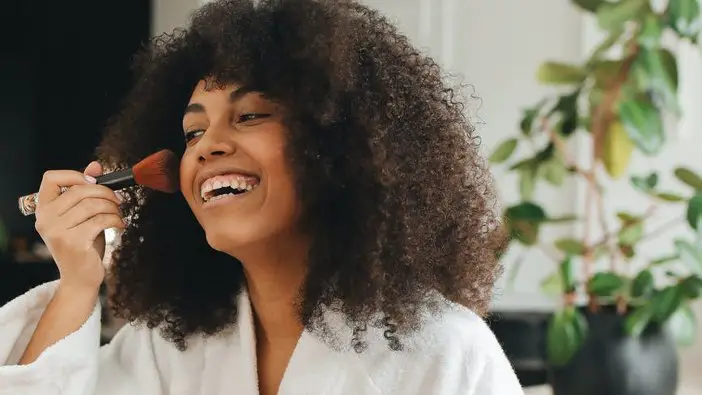 1. Start With a Clean Face
Starting with a clean canvas not only protects your face from building up grime, but it also protects your pores from breaking out. You need to remove dirt from your face before applying your foundation.
You start with a cleanser to clean your pores, and then move to a face toner and exfoliate if you can. Then, add moisturizer and sunscreen to protect your skin from the sun's UV rays.
After applying your skincare products, wear a primer to set your face for your foundation. The primer works as a film to coat your pores and also makes your makeup long-lasting.  
2. Pick a foundation
The best foundation that would complement precise and edged bristles is a liquid foundation. Unlike picking a foundation based on your skin type (which is important), you need to pick a foundation formula that is easy to blend with the brush.
A liquid foundation is best applied with a foundation brush due to its texture. If you use it with a cream formula, it might become sticky and wouldn't blend well.
However, this does not stop you from using any foundation that suits your skin type. Your blending skill is what needs to be improved.
3. Dot Your Face
Picked your foundation? Then dot your face next. There are different ways to dot your face with foundation. You can pour out the foundation liquid at the back of your hands and use the brush to dab on your face.
On the other hand, you can use an applicator that comes with the foundation. You could also use the pump from a foundation tube, where you squeeze a pint-sized amount on your fingers or brush.
If you are using a stick foundation, roll the foundation across your face, focusing on your problem areas and dark spots.
In addition, you should focus on your T-zone (forehead, nose, and chin) first, and then you move to your cheeks.
4. Pick a Brush
Your choice of foundation should fit with your hands perfectly. Before picking a foundation brush, makes sure it is flexible to hold and maneuver when you blend. This is a point you need to address when buying your brush.
I would recommend a foundation brush with smooth and sturdy bristles. However, it should be soft enough to blend and build foundation on your face.
It's best to go for a foundation brush that provides a full coverage blend. It becomes easier to control the intensity based on how your coverage.
Synthetic bristles are the best for your foundation brush. Meanwhile, a cream foundation should be applied with handleless brush for grip.
5. Blend
Blend away. When blending, start from the center of your face in circular motions that increase intensity as they grow wider. With your foundation brush, circle around your face like a spiral. The spiral circle grows larger as it covers your face from the center to outward. This makes it easy to cover up blemishes too.
You can also work on your face in small circles, blending the foundation from inward to outward.
Additionally, the dese bristle of your foundation brush makes it easy to blend and buff easily without leaving lines and streaks on the face.
Repeat these spiral strokes as you build your foundation on your face.
SEE: Experience Black Girl Magic With the Best Makeup for Dark Skin
6. Finish Up
After your first blend, spot blend your foundation on particular corners and problem areas of your face. This includes the side of your nose, nostrils, the hollows of your cheeks, and jawline.
To focus on those areas, lightly move your brush across them until you get the coverage you want.
Finish up by adding your concealer to cover your spots and dark circles. You should also apply other makeup products like a highlighter, blush, bronzer, and setting powder.
Remember that your foundation is the base makeup others sit on. If done right, your makeup will turn out great.
7. Clean Your Brush
This is about keeping good tool hygiene. You need to clean your foundation brush with the best possible tool. You can use a foundation brush cleanser or use other easy home tools to get the grease and residue out.
If you clean your foundation brush, you avoid acne breakouts and bacteria from spreading on your face.
To have more insight, here's a video to show how to use a foundation and why it's best for full coverage.
Why You Need a Foundation Brush
You need to know how to apply foundation with a brush because a brush is easier to buff the product on your face. Your skin can grab foundation faster when you use a foundation brush with it. Furthermore, it creates a seamless finish.
Additionally, brushes are cleaner to use. Rather than use a sponge or your fingers, your hands are clear of pigment and sticky formula. However, this does not mean your fingers are entirely in the clear, but they are more manageable.
You also get to enjoy a smooth finish with a foundation brush. Rather than have fingerprints and makeup lines on your face, there is a beautiful glide across your face when you use a makeup brush.
FAQs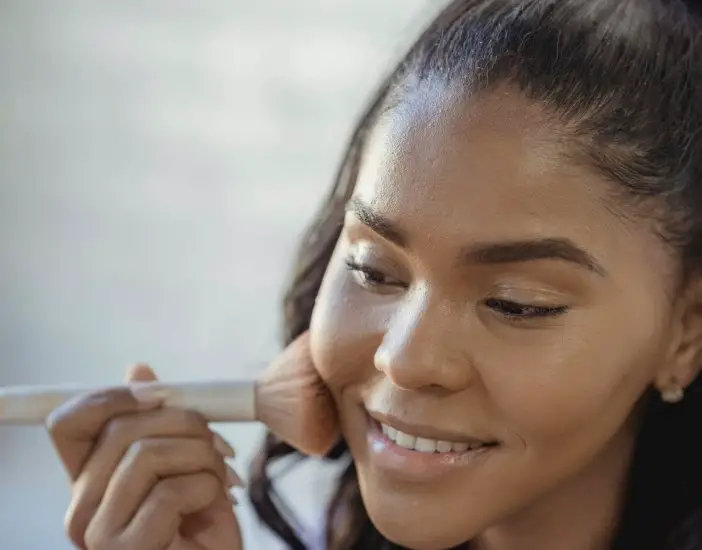 What other tools can I use to apply foundation?
You can use a precision sponge, beauty blender, your fingers, and special brushes like a kabuki brush to apply foundation.
There are other tools with special features that make the outcome of the foundation different on your face. However, for optimum effect, you should use the foundation brush first. Then use your sponge to cover hidden corners.
Is a synthetic brush better than a natural brush in applying foundation?
A synthetic brush is better. Synthetic bristles are better when it comes to applying foundation.
Synthetic bristles are easier to use on your skin and glide easily when you create strokes and blend. Furthermore, synthetic bristles are easier to clean.
Can I apply concealer with my foundation brush?
Yes, you can. You can use a foundation brush to apply your concealer.
Foundations and concealers have the same textures. However, their pigment consistency is different. A concealer has a thicker pigment than a foundation. But it does come in liquid, cream, and stick formulas.
Can I use foundation brush for liquid foundations only?
Yes, you can. You can use foundation brushes for any type of foundation formula.
However, your brush should be firm and sturdy. You can opt for handles bristles to help buffer your cream foundation for a smoother finish.
Conclusion
Your makeup starts with setting the perfect canvas to create aesthetic art. This is why you need to know how to apply foundation with a brush. A foundation is the base of your makeup. If you can create a smooth base, your makeup will turn out perfect with a chef's kiss.
Nonetheless, your foundation is not the starting point. Your starting point is cleaning your face and prepping it for the foundation. Moreover, you need to pick the right foundation and brush for a complementary look.
After applying your foundation, finish up with the rest of your makeup and tidy up by cleaning your brush.
The result of your makeup with a foundation brush is a fully covered face with pigment. This makes the tool different from the rest. So try a foundation brush today for a flawless face.
Thanks for reading.
Africana Fashion provides relevant beauty articles that answer your everyday questions.