You have to clean your makeup brush. It should be amongst the top 3 items on your cleaning to-do list if it isn't already.
Makeup brushes are necessary and important tools that help achieve great makeup. So if it's been quite a while since you lathered it up, it's time to get deep-cleaning.
You make use of your makeup brush daily for the application of cosmetic products to your face. These products leave remnants on your brush as you continue to use the brush for makeup application. Using your makeup brush without washing it will cause it to build up dirt.  
The build-up of residue from makeup can eventually lead to the development of mold, and this may cause skin infection or irritation because the mold and dirt will transfer to your face as you continue to use the brush. Regular cleaning of your makeup brush will help to rid the brush of dirt and the residue of makeup products. 
People often neglect their makeup brushes, letting residue and remnants of powder and cream formulas build up on the bristles for weeks. Some even go ahead to use more than one color without cleaning the brush in-between. 
It's necessary to use at least a few minutes each week to wash out all the debris and junk from your brush; to prevent bacteria growth, acne, and more gross skin issues.
How to Clean Your Makeup Brush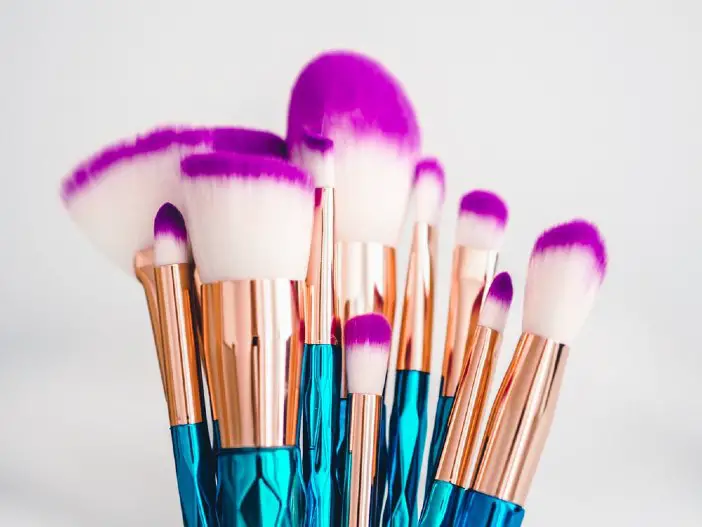 I am sure you would not want to transfer dirt and bacteria from your brush to your face while applying your makeup. Cleaning your makeup brush would help to get rid of any build-up of residue that is stuck in the brush's bristles.
So now that you are aware of the need for you to regularly clean your makeup brush, you must be wondering how to properly clean your brush. Fret not, It's as easy as reciting 123. Cleaning a makeup brush doesn't take much time and it gets easier the more you do it.
By now you should be ready to clean all of your dirty makeup brushes, it's time to get started.
1. Choose the Right Cleanser
The first thing to do is to ensure that you get the right makeup brush cleanser. There are several brush cleaners made specifically for makeup brushes and sponges, in the form of liquid or a block of bar soap. 
However, if you are not able to get either one of these cleansers, you can make use of products you have ready for use at home. A mild shampoo, hand soap, or facial cleanser can work too if that is what you have. 
This will flawlessly help to break down the makeup residue or dirt that has encrusted onto the bristles over time, and it will not do any damage to your brushes.
2. Wet Your Brush
Splash lukewarm water on the brush's bristles to dampen it. As you do this, always ensure that you lay your wet brushes upside down so that water doesn't get into the metal part beneath the bristles. If water is allowed into that area, it will disintegrate the glue over time. 
3. Add a Cleanser
Pour out a tiny little amount of your favorite cleanser into the palm of your hand. 
4. Swirl Brush in a Cleanser
Use your other hand to hold the dirty brush and twirl the brush's bristle around in the cleanser on my palm. Do this until the brush is drenched with the solution. 
SEE: How to Organize Makeup: See How to Transform Your Space in Quick Steps
5. Rinse and Repeat
Place the brush into a bowl of warm water and rinse out the cleaner or soap on the bristle of the brush. As you do this, you will begin to notice that the water coming out as you rinse the brush is pigmented. 
Repeat steps 3 and 4 a couple of times if your brush is really dirty. 
6. Squeeze Out Excess Water
Once you have cleaned the brush as much as you can, use your hand to squeeze out the excess water from the brush. After squeezing the water out, use a clean towel to pad the bristles of the brush.
7. Lay Flat to Dry
Place the head of the brush to its usual shape and position it down on a paper towel. Do this overnight to air dry. Ensure that you do not place them upright. Placing them upright will cause the moisture to leak into the brush to form mold. 
SEE: These 12 Easy Steps Will Make You Look Pretty Without Makeup
How to Quickly Clean Hairbrush With a Spray
There are several instant cleaning sprays specially designed for cleaning brushes. Times when you decide to use one makeup brush for different colors of makeup, these sprays help to prevent existing makeup residue and dirt from getting on your face. 
These are temporary cleaning methods you can use but don't substitute them for the proper method for cleaning your brushes regularly. 
How to use it:
Point down the head of your brush to prevent moisture for leaking in.
Spray the brush a couple of times.
Twirl your makeup brush against a clean cloth or paper towel( this will help to loosen up the pigments).
Place the brush on a flat surface to air dry it.
How to Quick-Clean With a Liquid Cleaner
This is a very quick way to clean your makeup brush. 
Get a small bowl and fill it with water.
Apply a thin layer of the solution to the water.
Dip your brush into the mix.
Move your brush back and forth on a clean paper towel. Do this gently until all the buildup of residues starts to loosen up. 
Do this until the brush is clean.
Air-dry your brushes by placing it on a flat surface.
SEE: This Is How to Use Setting Powder for a Flawless Makeup
How to Deep-Clean Your Brush With Soap and Water
Follow the steps below to deep-clean your brush with soap and water.
Put a drop of soap of choice to a cleansing pad and whirl the brush into the soap. Do this until it fully lathers up and every stain or dirt is removed.
You can also use a bar soap for this. Wash your makeup brush or sponge with the soap gently.
Squeeze your makeup brush gently to remove any excess cleanser or water from it.
Rinse the brush thoroughly with clean water. As you do this, ensure that the bristles are facing downward.
Do not rinse under hot water, as this will loosen up the glue.
Shape your bristles back into place to enable them dry correctly.
Place your brushes flat on a towel or paper towel to air dry. 
You can also leave it on the table so that air can pass through it and dry it.
3 Cleaning Ingredients to Use In Cleaning Your Makeup Brushes 
There are several cleaning ingredients made especially for cleaning brushes. Ranging from specialized brush shampoos and cleansers to DIY cleaning mixtures, there's a wide number of product and method options to choose from.
Feel free to try these three methods to help you in your cleaning exercise.
1. Make Use of a Brush Cleanser
If you are not so familiar with the makeup brush cleaning exercise, you can try to start by using a straightforward brush cleanser. For this, use bar soap because it is incredibly easy to use. Hydrate your brush bristles by using a bar of soap with moisturizing benefits. This will not only hydrate your bristles but will also increase their life span overall.
SEE: Different Water for an Effortless Makeup and Cleansing Routine
2. Use a Specialized Makeup-Brush Cleaner Tool
Using a specialized cleaning tool is another quick and easy way to wash your makeup brush. Use a flexible glove that has two specially textured sides, one for face-makeup brushes and the other for eye-makeup brushes.
Both are available to use, use them efficiently to remove all dirt, residues, and build-up in your makeup brush. Use both to efficiently and thoroughly remove all traces of residue and buildup. 
3. Make Use a DIY Cleanser
Gentle shampoos such as baby shampoo are effective in removing dirt and gunk from your brush bristles. You can also make a homemade remedy by mixing dish soap and olive oil: while the dish soap helps to kill germs, the oil works effectively to break down any built-up dirt from the product in the brush. 
Using dish soap alone for this may cause damage to your hairbrush because it is too harsh. Therefore, it is very vital to use both ingredients together. It's important to use one part olive oil and one part dish soap here, as dish soap alone would be too harsh and could damage your brush hairs.
However, if you decide to opt for the DIY brush cleaner method, ensure that you get your ingredients right because you will use this all over your face. It's best to do away with ingredients such as parabens, sulfates, and so on. 
SEE: Best Makeup Kit in All Sizes You Could Possibly Want
Frequently Asked Questions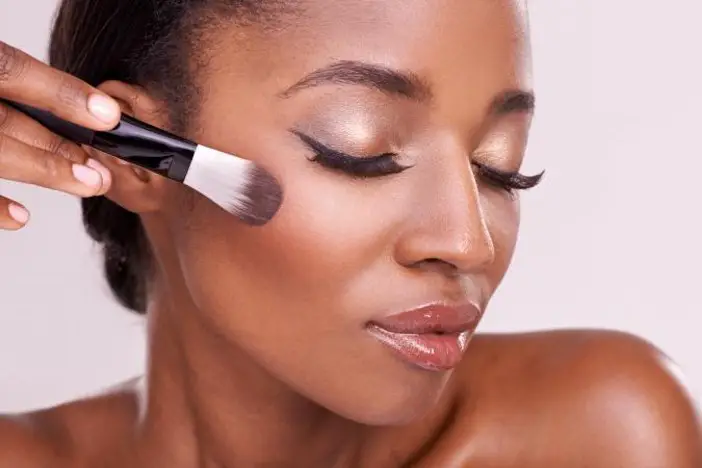 When should makeup sponges and brushes be replaced? 
Regardless of the quality of your makeup brush, you have to change it once bristles start to shed or when the brush is no longer soft or full. 
Even though washing your brush regularly will help extend its lifespan, a time will come when you have to dispose of and replace your makeup brush. A high-quality brush usually lasts for years if maintained properly. 
Can I wash my makeup brushes in the washing machine?
No, you can't. Using a washing machine to clean your makeup brush is not an option because the machine will melt and break down the glue that holds the piece together with the heat that comes from it. 
Don't be lazy. Clean your makeup brushes regularly, and watch your skin improve.
How often should you clean your makeup brushes?
Be sure to wash your brushes at least once a week. You can make use of a makeup brush cleaner to clean and sanitize them.
However, the amount of time you have to wash your brush depends on how dirty it is and your skin type. If you have sensitive skin or skin that is prone to acne, wash your brush at least twice weekly or it is even better to wash your brush after each use. 
What can be used to clean makeup brushes?
I would recommend using either a shampoo or dishwashing soap, and warm water to clean your makeup brushes. 
Conclusion
If you cannot remember the last time you cleaned your makeup brushes then it's time for you to give them a thorough cleansing. Just like any other brush, makeup brushes can get filled with product buildup, dirt, guns, oils, and such and this will hinder the brush's ability to aid proper makeup application.  
Do not forget to include your makeup brushes in your cleaning to-do list. It is crucial to clean your brush regularly; this will help to promote smooth makeup application.
Follow the step-by-step guide in the article to rid your brush of all the unwanted particles in its bristles. Try deep-cleaning your brush today, your skin and makeup will thank you for it.
Thanks for reading.
Visit Africana Fashion for more beauty tips.