A blowout is a hairstyle that makes your natural hair look smooth and shiny by using heat, usually from a blowdryer.
It is a great way to refresh your look in just a few minutes. Getting this hairstyle provides you with a lot of benefits, from making your hair look fuller to being able to change up your style in a snap.
One of the most common questions people who decide to go natural ask is "What is a blowout?" or "How do I get a blowout?" So in this article, we'll discuss what a hair blowout is, how you can get one, and why you should get one.
I'll also show you some easy ways to maintain your blowout and make it look fabulous. So get comfortable and put your game face on, as we walk through the world of blowouts together.
What is a Hair Blowout?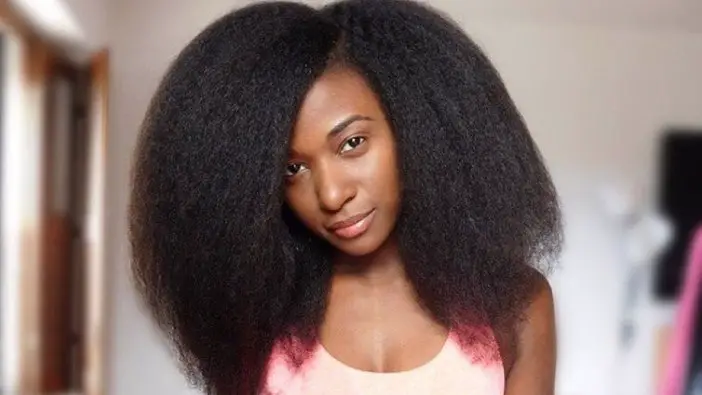 A hair blowout, also known as a hair blow-dry, is a style of hairdressing that involves combing the hair straight before drying with a round brush and a blow dryer to create volume and smoothness.
It usually starts with washing and conditioning the hair, then protecting it from heat damage, and blow-drying with a round brush. Depending on the hair type, a touch-up with a flat iron might be needed.
While blowouts are traditionally done on straight hair, there are now versions for curly and wavy hair to create volume and make hair look sleek and shiny.
Blowout vs. Keratin Treatment
A hair blowout and a keratin treatment are both ways to add shine and manageability to your hair. But unlike blowouts, hair professionals perform a keratin treatment by using a protein-based product called Keratin, which coats hair strands and makes them stronger and smoother.
Both treatments come with benefits and downfalls. But the best way to decide which one is right for you depends on what you want your hair to do.
Blowouts typically last up to 3-5 days and can be done at home with little effort. So if you are looking for something more temporary and easy, then a hair blowout is the way to go.
On the other hand, a keratin treatment is usually done in the salon and can last for about three months. So if you are looking to make a long-term change to your hair's texture, then this is the right choice for you.
SEE: Protein Treatment for Hair: How to Redefine Your Weak Hair With It
How to do a Hair Blowout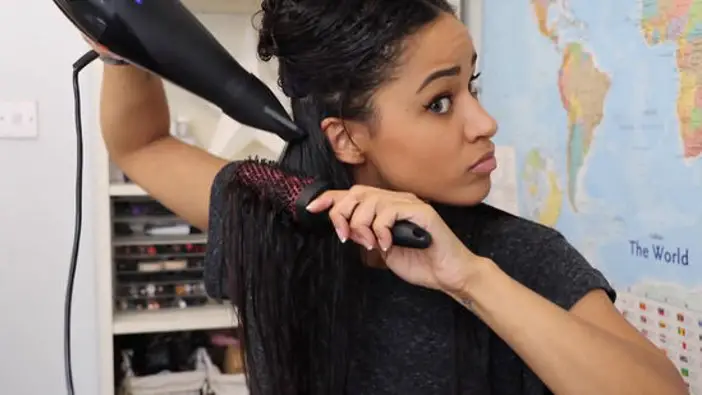 To get the best results from this look, here are some tips that you need to know before getting started with your hair blowout:
Use a volumizing shampoo and conditioner to add more volume and enhance your style.
Dry your hair completely before starting the blowout process. A wet or damp hair will make it heavier and create frizz.
Make sure to use a round brush when blow-drying your hair in order to achieve maximum frizz.
Step 1: Choose Your Tools
To properly blow out your hair, you need a: shampoo, conditioner, wide tooth comb, detangler, round brush, heat protectant, and a blow dryer.
Step 2: Wash Your Hair
Pick a shampoo and conditioner that's right for your hair type. Then put an ample amount of shampoo into your hands and gently massage it into your scalp and hair to create a lather.
Rinse out the shampoo before applying a conditioner from roots to tips to coat every strand evenly. Finally, rinse off the conditioner and dry off with a towel.
Step 3: Detangle Your Hair
Even though it's not a lot of fun, detangling your hair is important. Not only does it remove any knots or tangles from your hair, but it also makes the blowout process much easier.
Prepare your hair by brushing out all tangles with a wide-tooth comb. Start brushing from the bottom and work your way up towards the ends of your hair. Be sure not to pull on your hair while you're brushing to avoid breaking hair strands.
Step 4: Use Heat Protectant
Your hair is composed of proteins and if the heat from your blow dryer is too high, it can cause the cuticle to get damaged which can lead to split ends, hair breakage, or loss.
To prevent this from happening, you should apply a heat protectant on your hair before using the blow dryer to style your hair.
Step 5: Blow Dry
Now you're finally ready for the main part. Divide your hair into four sections (this makes it easier for you to style your hair without getting it tangled). Now grab the first section of your hair and wrap it around a round brush till you get to the root.
Turn on your blow dryer, put it on a medium setting, and apply the heat to this section, (keep in mind to slowly release the brush as you go). Repeat this process on the other sections until you reached your desired fullness.
SEE: How to Straighten Curly Hair Without Frizz + Guide
How to Maintain Your Hair Blowout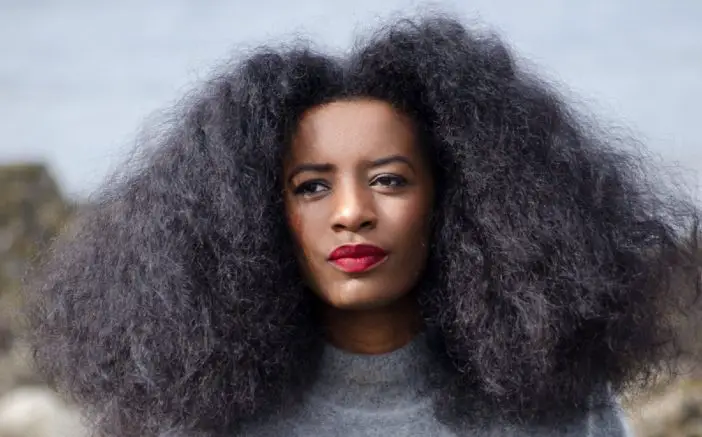 Avoid touching your hair
Use a silk bonnet and pillowcase.
Use a hydrating spray to moisturize your hair and prevent it from looking dull.
Protect your hair by tying it in a loose bun or ponytail before you sleep at night
Sleep on a silk or satin pillowcase to avoid frizzing.
Try not to get your hair wet. Use a shower cap in the shower and a moisture-absorbing headband when working out.
Use a dry shampoo if you notice your hair is starting to get greasy.
Why You Should Get a Hair Blowout
A blowout will make your hair silky and straight.
It will add volume to your hair so the style will last for days instead of hours.
You can wear it to work or an event and not worry about your hair getting messy.
It's an easy, quick hairstyle that won't take up too much of your time in the morning.
It's a good way to get rid of frizz and flyaways that just don't go away with other styling techniques.
It will save you money because you won't have to do anything else with your hair.
It cuts down on the time it takes to style your hair in the morning when you're in a hurry.
SEE: What Is Hair Toner? A Complete Guide for Colored Hair Beginners
FAQs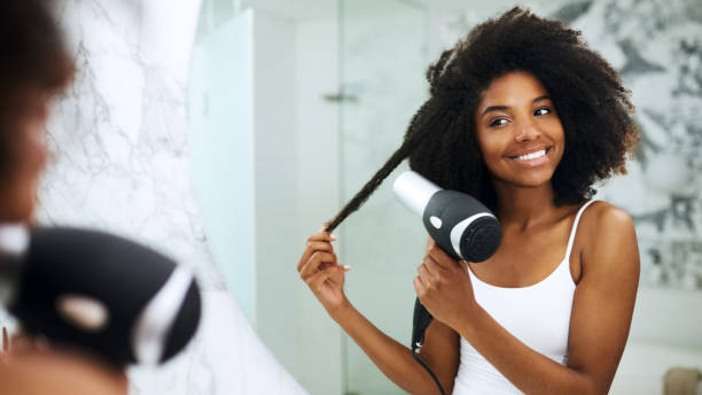 How long does a hair blowout last?
3-5 days. It varies from person to person, but an average hair blowout will last for about 3-5 days.
But it is subjective and depends on several factors such as your hair type, hair length, humidity, and how you maintain your blowout.
Is a blowout bad for my hair?
It depends on your hair type. You should not get a blowout if you have dry and frizzy hair, because it could make your hair even drier and frizzier.
However, if you have oily hair, then a blowout may be perfect because it will get rid of all the excess oils that are weighing down your strands.
Can I wear a hair blowout to parties?
Yes, you can. A blowout is perfect for special occasions, including weddings, parties, and even work events.
It will significantly improve how your hair looks by giving it more volume and making it easier to style. Hence making you feel more attractive and confident.
How do I protect my hair blowout overnight?
Apply a hydrating spray to your hair, then tie your hair into a high bun and wrap it with a silk or satin scarf before you go to bed.
This will not only protect your hair but also keep your hair clean and well hydrated. You can also protect your hair overnight by investing in some silk pillowcases.
Conclusion
A hair blowout is one of the most popular forms of styling in today's world. You can do a blowout at home with tools you already have and you can also let a professional stylist do it.
From runway shows to an office meeting, getting this hairstyle can give your hair more volume and length. It also cuts down on the time it takes to style your hair with heat or in the morning when you're in a hurry.
Getting a hair blowout is also an excellent way to keep your hair looking great and ready for anything. So, whether you're going out for a night in town or need a quick touch-up before work, a blowout is a fast solution for you.
Thanks for reading.
Africana fashion provides you with relevant hair articles to update your look.